Are you tired of the standard bushes seen in every other landscaped yard in the neighborhood? Let us introduce you to a few outstanding varieties that often get overlooked. Be prepared for yard envy.
Diervella (Honeysuckle)
All varieties listed here are Growing Place Choice plants because they are strong performers year after year. They stay attractive with little maintenance. Diervella shrubs bloom bright yellow flowers June through August. They thrive in sun or shade and are drought tolerant once established. All are disease and deer resistant with a spreading habit.
'Kodiak Black' honeysuckle foliage turns burgundy-black
Diervella rivularis 'Kodiak Black'
The yellow blooms contrast against foliage that gets dark-burgundy. This easy-going native will get 3' x 5' tall and wide, bringing an increase of birds and pollinators to your yard.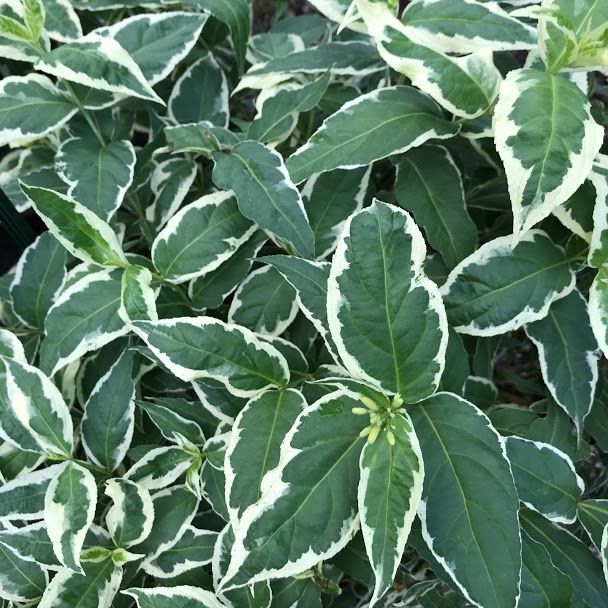 'Cool Splash' Honeysuckle pictured above.
Diervella sessifolia 'Cool Splash'
Add some drama with bright white and green leafed honeysuckle. Over time, 'Cool Splash' forms underground suckers, making it a great bush for erosion control, mass plantings or woodland settings. A dwarf form, 'Cool Splash' grows 2' x 3' in height and width.
Diervella sessifolia 'Butterfly Bush'
Just when the spring flowering trees and shrubs are spent, the Butterfly Bush blooms yellow, attracting pollinators all summer long. By fall, the leaves have a purplish glow. Use it to stabilize a slope as it will sucker and spread, staying more contained in drier areas.
Cotinus (Smokebush)
The round leaves and puffs of flowers set the Smokebush apart from other shrubs. They are vigorous growers in full sun with average, well-drained soil. They can be cut back severely in the spring as needed, but flowering and smoke will be limited since they bloom on old wood. Visit our Learning Gardens at both locations to see the magnificent display of mature smokebushes.
'Winecraft Black' gives season-long color, texture, and shape to a landscape.
Cotinus coggygria 'Winecraft Black'
This smokebush makes a statement with its rich maroon-red foliage that darkens to purplish-black. Summer blooms of red become hazy violet puffs of smoke. The foliage then turns brilliant orange on this semi-dwarf that grows 4'x6' in height and width. Plant near a patio or sidewalk for an eye-catching view.
The 'smoke' on a Smokebush is actually hairs on the structure that holds the flowers.
Cotinus coggygria 'Ancot'
The Golden Spirit Smokebush is a great accent plant. The chartreuse rounded foliage brings a range of fall color from pink and orange to coral and red. Grown in full sun to part shade, the Ancot shrub can get 6'x8'H by 5'x6'W.
Purpleleaf Sand Cherry
The Purpleleaf Sand Cherry is a great alternative for a small Japanese Maple.
Prunus x cisterna (Cherry)
The foliage on the Purpleleaf Sand Cherry stays reddish-purple throughout summer. Pink fragrant flowers bloom in spring. Grown in average, well-drained soil in full sun, the Purpleleaf Sand Cherry will grow 8'x10'H by 6'x8'W. It can be pruned to be tree-like, making it a great alternative to a small Japanese Maple.