With the crazy, wet weather we've had this spring, you haven't missed your window! Know that you can plant as long as the soil is not too wet. An easy way to tell if your soil is too wet is to squeeze a handful. If it sticks together in a clump, it's too wet. If it crumbles, dig away! Celebrations, holidays and time off don't always line up with the best weather dates. Here are a few tricks to get what you want when you want it!
Quick and Easy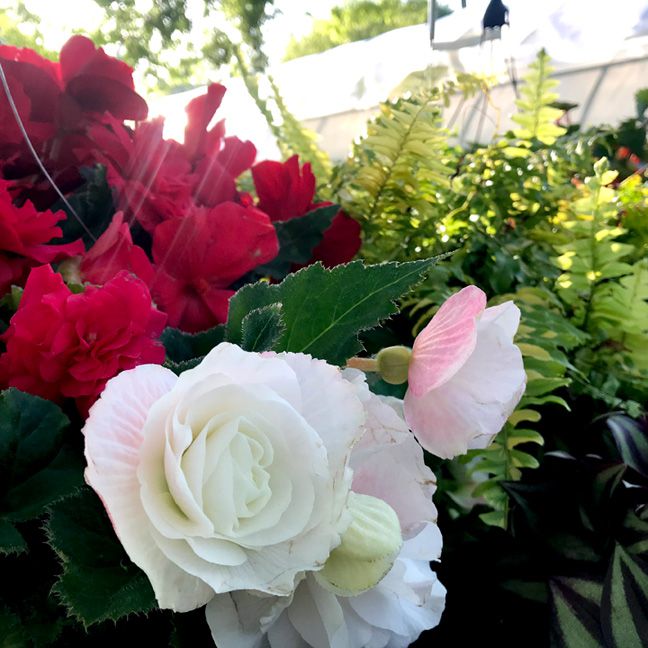 Ready to go, all colors, sun, and shade hanging baskets in stock all season
For instant color, hang a basket of annuals or fill a container with your favorites. Add a few perennials in with your annuals. Perennials can always be transferred to the garden when the soil is more friable. Now is also the time to plant warm-weather vegetables like tomatoes, beans, peppers, cucumbers, and squash. Veggies and herbs both do well in container gardening.
Tough Stuff
Tuff Stuff Red Hydrangea just starting to bloom
Get a huge splash of color when other shrubs are done flowering with hydrangeas. The 'Tuff Stuff' hydrangeas are beginning to bloom now. They come in pink and red and like moist, well-drained soil. Blooming in part shade to full shade, 'Tuff Stuff' continues to produce new blooms until frost.
New for 2019! Bejing Gold Tree Lilac blooms yellow in June
Syringa reticulate 'Bejing Gold' is a new, hardy tree lilac with creamy-yellow flowers and cinnamon colored bark. The fragrant flowers on this dependable urban tree attract butterflies and hummingbirds to any landscape. Being salt tolerant, it's an excellent choice for parkway planting.
Salute to Red, White, and Blue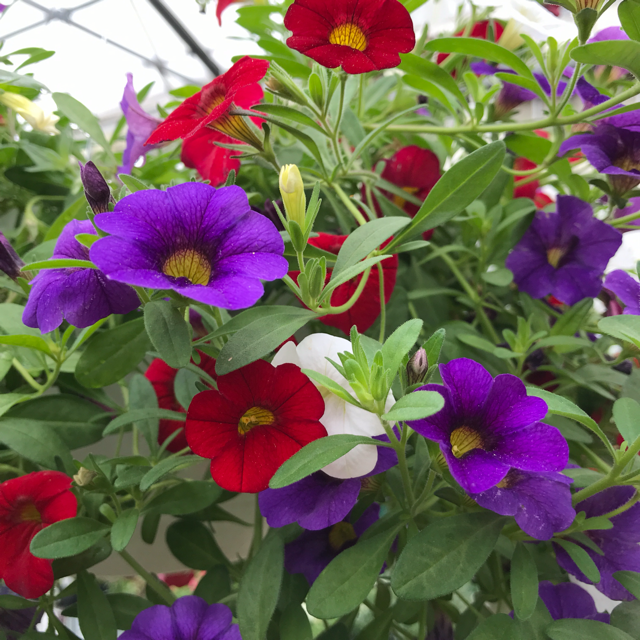 We have an abundance of flowers blooming now! Come in and see the many choices. Here are just a few:
Annuals: 'Lanai Candy Cane' verbena, red, white and blurple (blue-ish purple) calibrachoa hanging baskets, 'Vista White' Salvia, 'Red Hot Sally' salvia, 'Sizzler Purple' Salvia, 'Techno Heat Dark Blue' Lobelia, 'Pretty Crimson' Mandevilla, Hypnotica Red Velvet Dahlia, Sonata White cosmos, Big Bounce white impatiens, Cathedral Deep Blue Salvia, Summerwing Dark Elegance Begonia, and 'Blue My Mind' Evolvulus
Perennials: Myosotis sylvatica 'Victoria Blue' and 'Victoria White', May Breeze Phlox, Violet Pinwheels Phlox, Snowflake Phlox, 'Sweet Kate' Golden Spiderwort, 'Red Baron' Japanese Blood Grass, 'Pomegranate' Achillea millefolium, 'Whoops-a-Daisy' Shasta Daisy, and the herb Lavender
Shrubs: Red Chokeberry, Dwarf Red Twig Dogwood, Renaissance Spirea